html
The Welcomers
THEY ARE CURRENT ESIC STUDENTS WHO VERY RECENTLY WERE IN THE SAME SITUATION AS YOU.
Here you can get to know them better and have direct conversations with them to learn about their ESIC experience.
The welcomers will help answer any doubts you may have about:
How to study at ESIC?
Sports and Cultural activities
Life in Spain
Scholarships
International Experiences
Professional Internships etc.
If you are an international student contact our Buddies.
  *Los Buddy Welcomer son estudiantes de ESIC que participan en el programa Buddy Program. Si eres un estudiante internacional, ¡contacta con ell@s!
Virtual tour
Get to know your campus with this virtual tour.
Discover where everything you need is.
*Virtually visit one of our campuses and live the ESIC experience.
Welcome Virtual Week
From 14th to 16th September
Monday 14th | 12:00
Flying Start
Discover our Student Center Program
How are we going to work?
Meet the degree directors
Discover our new methodology
I want to attend
Tuesday 15th | 12:00
Squeeze ESIC
Get to know all the services available to you:
Professional Development Unit
ESIC's Internacional Office
I want to attend
Wednesday 16th | 12:00
Más ESIC
Learn more about masESIC University Extension
Volunteering
Sports
Theatre Room
I want to attend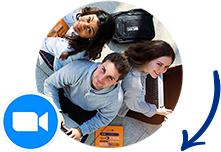 Talk to our welcomers,
about any doubts you may have
I want to attend
#InauguraciónCurso2020/21
INAUGURATION ACADEMIC YEAR 2020-21
Before the classes start, we would like to invite you and your family to the official opening ceremony, where the School's Management will welcome you and tell you everything you need to know to start this new journey. Don't miss this opportunity of living this unique and unrepeatable moment with them.
This year it will be held virtually! We are waiting for you!
I want to attend
Confirm Selection
Fill in the following form to complete your registration
html
SPAIN
Are you an international student coming to ESIC?
Here you will find all the information you need to make your experience at ESIC
and in our country easy, allowing you to adapt quickly.
Know more
#GeneraciónESIC