ESIC Eventos
Master in Digital Marketing Program Presentation & Conference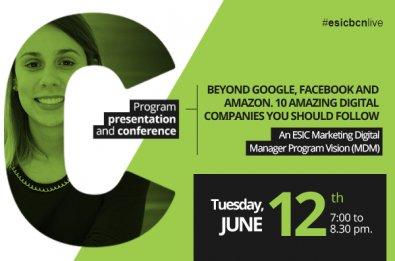 When?
12 de Jun del 2018 | from to
Where
CAMPUS POSTGRADO ESIC BARCELONA
Dirección
C/ Maria Cubí, 124 - 08021 Barcelona
The Master in Digital Marketing is an innovative, academically sound, practice-driven, and digital marketing-focused program, reflecting the current challenges of the marketplace.
The main objective of the MDM is to help and support students transition into strategic management, in particular, the area of digital marketing. By completing the MDM, participants will gain the key skills and knowledge to evaluate, manage, and implement digital marketing strategies while strengthening their ability to face and solve complex challenges in an increasingly globalized/digitalized marketing environment.
In this context, the program has embedded in its curriculum a clear international approach enriched with the latest trends and developments in digital marketing; two pillars that represent the foundations for tomorrow is marketing leaders.

CONFERENCE
Beyond Google, Facebook and Amazon. 10 amazing digital companies you should follow
In Tech news and Digital Business School success cases, we always talk about the same three huge corporations. Digital ecosystem has evolved and the companies bringing the most innovative proposals to the market are new business players. Join this keynote to know Digital business stories that will change the world in next years to come.
PROGRAM PRESENTATION AND CONFERENCE BY David Jordan
David Jordan is a faculty member at ESIC and CEO at Jarvis Digital. He has a wide experience in business management and development within the digital and adtech sector, due to his work in important companies such as Bully, Softonic and Dell. David Jordan graduated UAB with a Bachelor's degree in PR and Advertising, and ESIC Barcelona with an Executive MBA (EMBA).