ESIC Eventos
Alumni Talks: LA EXPERIENCIA DEL CONSUMIDOR Y LA TRANSFORMACIÓN EN VENTAS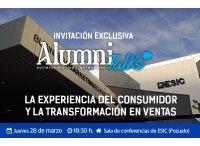 When?
28 de Mar del 2019 | a la(s)
Where
Sala de conferencias de ESIC Pozuelo
Vive con ESIC una experiencia de una Masterclass exclusiva con Charlene Li, líder mundial en negocios y tecnología disruptiva, principal analista de Altimeter, y autora bestseller.
Será una oportunidad única para escuchar y conversar con una de las profesionales más especializadas en el sector.
Masterclass impartida en inglés
AGENDA:
18.15
Recepción de asistentes
18.30
Charlene Li: LA EXPERIENCIA DEL CONSUMIDO Y LA TRANSFORMACIÓN EN VENTAS
19.30
Networking Cocktail
Charlene Li es la principal analista en Altimeter, y la autora del libro Open Leadership, bestseller de The New York Times. También es co-autora de Groundswell, un libro de gran éxito y aclamado por la crítica, el cual fue nombrado como el mejor libro de negocios de 2008.
Su último libro, The Engaged Leader, fue publicado en marzo de 2015. Su gran conocimiento en liderazgo, estrategia, medios interactivos y marketing, le brindan una visión única del panorama empresarial cambiante.
Imprescindible inscripción previa mediante e-mail a: Laura.llopiz@esic.edu (antes del 25 de marzo)