ESIC Eventos
Digital Business Summit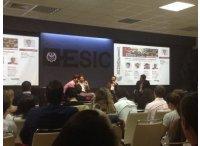 When?
05 de Oct del 2016 | from to
Where
ESIC Sevilla  
ESIC Sevilla celebra el próximo 5 de octubre la segunda edición del Digital Business Summit, la principal cita andaluza que reúne a los más prestigiosos expertos en negocio y marketing digital.
Este evento, que tendrá lugar a lo largo de toda la mañana (9.30-14 horas) y que cuenta como 'media partner' con 'ABC de Sevilla', contempla tres bloques que desgranarán las posibilidades de negocio que ofrecen los escenarios digitales, las últimas tendencia del marketing y los perfiles profesionales que han surgido al calor de los cambios tecnológicos y sociales.
Agenda*:
- NUEVOS MODELOS DE NEGOCIO
Alberto de Torres, Director Regional desarrollo negocio de la División ICT-European Software Institute.
Álvaro Zamacola, Director de desarrollo de negocio España y Portugal de BlaBla Car.
David Villaseca, Global Head of Digital Strategy en BBVA.
Roberto de Celis, Director de negocio digital en el grupo Vocento.
- MARKETING TRENDS
Branded content: Pedro Sánchez, Director de marketing y desarrollo de negocio Forma Animada S.L.
Big Data: Amador López, CEO & Founder de Human Forecast.
Mobile: Marta Panera, International PR & Comunicación director Spain, Italy & Portugal /// Head of Trade Marketing Spain de Showroom Privee.
- EL TALENTO DIGITAL: NUEVOS PERFILES PROFESIONALES
Emilio del Prado, Interim manager & knowmad.
Alicia Sánchez, Directora de RRHH de Altran.
Luis López, Director de RRHH de Deloitte.
Alberto Andreu, Fundador de Aligning Through.
Enrique Benayas, Director general de ICEMD (el Instituto de la Economía Digital de ESIC).
*programación sujeta a posibles cambios.
Contacto: Rocío Cantero
Teléfono: 954 460 003
Email: rocio.cantero@esic.edu
Link relacionado
Link relacionado
http://www.esic.edu/evento/digital-business-summit/?ini=2016-10-05&fin=2016-10-05