Máster en Customer Experience: Innovation & Design Thinking [MICEMD]

La visión holística del Máster en Customer Experience incluye las dimensiones relacionales, experienciales, tecnológicas y analítico-financieras esenciales en la gestión del cliente.
Un programa que contiene un enfoque innovador de transformación de negocio a customer-centric y gestión integral de experiencia de cliente a través modelos y herramientas más actuales e innovadores como human-centric design, growth hacking, agile management, marketing automation y smart data.
El Máster en Customer Experience está dirigido a responsables y directores de marketing y ventas, Responsables de transformación digital, Responsables de customer experience, Gestores y responsables de CRM multicanal, Brand y Customer managers, Profesionales de publicidad y comunicación, Consultores de Marketing y Transformación Digital.
Obtendrás Doble titulación europea de ESIC y FEDMA: Máster en Marketing Digital otorgado por ESIC y European Diploma in Digital Marketing otorgado por FEDMA (Federation of European Direct and Interactive Marketing).


1
Obtener el conocimiento estratégico y táctico necesario para gestionar integralmente al cliente omnicanal.
2
Trabajar desde la visión del Customer Centricity win-win basada en Customer Journey, humanización de relaciones entre empresas y clientes, innovación.
3
Desarrollar estrategias clave y herramientas avanzadas para planificación, generación de leads, captación y fidelización de clientes.
4
Disponer de conocimiento de tendencias y tecnologías disruptivas en ecosistema digital y economía experiencial (CRM, Marketing Automation, Design Thinking, Customer Experience, Growth Hacking, Big Data, AI & ML).
5
Controlar modelos de medición y análisis para la toma de decisiones y optimización de inversiones.
Estructura académica
El MICEMD te proporciona los conocimientos y las herramientas necesarias para conocer a los consumidores, escucharlos, convertirlos en tus clientes y, finalmente, en fans de tu marca.

Asignaturas de Management

Asignaturas de Especialización
Asignaturas de categoría
Asignaturas específicas de tu titulación

Asignaturas elegibles
Asignaturas o actividades de libre elección por parte del alumno para personalizar una parte de su máster y así completar su desarrollo competencial. Se pueden elegir asignaturas relacionadas o no con su disciplina, vivir una experiencia internacional o prepararse para una certificación.
Será posible cursar las asignaturas elegibles en inglés o en español y seleccionar las que más interés tengan para el alumnado, independientemente de la categoría del programa que esté cursando. Existen dos niveles por cada asignatura elegible; nivel esencial o nivel avanzado, que dependerá del contenido del programa.
Categoría Management
Gestión e inversión en activos financieros
El viaje de emprender
Re & Upskilling: aumentando tu eficacia profesional
Cómo hacer global un negocio
Categoría Marketing
Marketing Digital
Marketing Automation para el Marketing Operativo
Branding con propósito
Ventas 4.0: nuevos modelos digitales
Categoría Tecnología
Ciberseguridad esencial para Directivos no técnicos
Big Data e IA esenciales para Directivos no técnicos
Internet del Valor (Tecnologías para Directivos no técnicos)
La empresa 4.0: Automatización de procesos (RPA)
*La impartición (modalidad remoto) de estas materias estará sujeta a horarios en función de composición de grupos, pudiendo no coincidir con el horario del Programa.
Google tools for decision making (Google Tools)
Software for Smart Marketing (Hubspot Software Marketing)
Advanced Marketing (CIM - Chartered Institute of Marketing)
Scrum in practice (Professional Scrum Máster Certification -PSM)
People Analytics (Certificate Program)
*No incluye las tasas de exámenes para la obtención de ninguna certificación, ni tutorización individual CIM.
WASHINGTON (USA): Understanding today's Business Environment
MIAMI (USA): Digital Business Innovation
LONDON (UK): Collaborative Innovation from the Marketing Perspective
SHANGHAI (CHINA): Internationalization and Global Mindset
MÉRIDA (MÉXICO): Innovation and sustainability in business
*Plazas sujetas a disponibilidad y destinos sujetos a cambios. El importe del Business study tour no está incluido en el Máster. Precios y condiciones a consultar.

TFM
El trabajo es un proyecto empresarial real que supone un desafío en el que el estudiante de manera transversal, debe demostrar que se han cumplido los objetivos de aprendizaje y desarrollado todas las competencias adquiridas durante el programa.
Trabajo individual.
El alumnado tendrá que crear un Customer Experience Plan para una marca o empresa. El objetivo del TFM es dar la oportunidad al alumnado de aplicar los conocimientos y la experiencia adquiridos durante el programa.
*Academic Structure subject to change. The subjects are combined throughout the course, except for the Final Project that will be coursed at the end of the master.
Directores de Marketing
Directores de Customer Experience
Directores de Servicios al Cliente
Directores de Proyectos de Transformación Digital
Directores Comerciales
Consultores de Negocio
Data of former students of the program
Áreas funcionales que ocupan nuestros alumnos
Comercio y Distribución
8%
Administración Pública
4%
Zonas geográficas
donde trabajan
Faculty and invited speakers
Aranzazu Gómez Gutierrez
Director del programa.
Máster en Dirección de marketing y gestión Comercial, ESIC Business & Marketing School. Licenciada en Administración y Dirección de Empresas, Universidad de Las Palmas de Gran Canaria. Actualmente: Directora Máster MICEMD, PSMAR. Anteriormente: Directora de Marketing y Clientes, Grupo Prisa
José Ángel Sanz Viejo
PhD en Ciencias Económicas y Empresariales, Universidad Nacional de Educación a Distancia - UNED. Master en Dirección Comercial y Marketing, IE Business School. Programa para Consejeros, ESADE. Programa de Desarrollo Directivo, IESE Business School. Ingeniería Técnica Industrial, Universidad Politécnica de Madrid. Actualmente: Director de Desarrollo, Enerfree Holding. Anteriormente: Director de Procesos y Calidad, Naturgy Energy Group SA. Director de Ventas y Operaciones, Gas Natural Fenosa. Director de Regulación, GAS NATURAL SDG, SA. Consejero y Vocal Comisión Permanente, Sedigas - Asociación Española del Gas. Director General, GAS NATURAL COMERCIALIZADORA S.A. Consejero, CORES Corporación de Reservas Estratégicas de Productos Petrolíferos. Director General, GAS NATURAL CEGAS SA
Antonio Soto Nadal
Master in Digital Business, ESIC Business & Marketing School. Ingeniería de Telecomunicaciones, Universidad Politécnica de Cartagena. Actualmente: Director de Negocios Globlales, Pikolinos. Anteriormente: Director de comercio electrónico, digital y medios, LG Electronics. Responsable de e-Commerce - División de Lujo, L'Oréal. Responsable de e-Commerce - categoría no alimentaria, Carrefour. Responsable de e-Commerce & SEO, Decathlon Internacional
Pablo Fiestas Villanua
Global Executive Master Digital Business (GMDB), ISDI. Licenciatura en Administración y Dirección de Empresas, Universidad Pontificia Comillas, ICAI-ICADE. Actualmente: VP Corporativo Consultoría Customer Experience, IZO. CX Chief Knowledge Officer, Industrial Marketing Center. Project Manager, Lukkap
Antonio Miguel Rodríguez Furones
PhD (c) en Ingeniería Ambiental, Universidad de Cantabria. MBA, ESADE. Programa de Desarrollo Directivo CYII, IESE Business School. Ingeniería de Caminos, Canales y Puertos, Universidad de Cantabria. Actualmente: Vicepresidente Mesa de Proyectos, Alastria Blockchain Ecosystem. Anteriormente: Director Operaciones (COO) para el Sur de Europa, Tunstall GmbH. Director General y CEO, GRUPO TECOPY. Subdirección de Estudios, Programas y RSC (área de Gerencia), Canal de Isabel II. Gerente, Deloitte. Director de Proyectos, ABANTIA GROUP. Director de Auditoría y Consultoría Interna, Grupo Aguas de Valencia. Subdirección de Abastecimiento, Consorcio de Aguas Bilbao Bizkaia
Juan José Muriel
Master en Dirección de Marketing y Gestión Comercial, ESIC Business & Marketing School. MBA, ESIC Business & Marketing School. Programa de Dirección General, IESE Business School. Licenciatura en Empresariales, Universidad de Cádiz. Actualmente: Head of Business, Digital Transformation, Customers and Marketing, Uniteco Profesional Correduría de Seguros. Anteriormente: Director General Comercial, Nuevas líneas de negocio y Marketing, ADLPerformance. Director Comercial de España y LATAM, Mundicorp Internacional SAC. Coordinador Territorial de Canales de Prescripción(Trade Marketing), Verisure Securitas Direct
Sonia Casado Suárez
Master en Finanzas, CUNEF. Licenciatura en Administración y Dirección de Empresas, Universidad Complutense de Madrid. Actualmente: Head of Modelling & Data Science, DENTSU. Anteriormente: Chief Data & Analytics Officer, Ymedia - DENTSU Group. Chief Data & Analytics Officer, PRISA. Managing Director, Accenture España Digital - Analytics. Consulting Director and Business Development, Neo Metrics. Senior Consultant in Financial Risk Management, Ernst & Young Consulting
Salvador Vilalta Blanco
Master en Dirección de Ventas y Marketing, Instituto de Directivos de Empresa (IDE-CESEM). Actualmente: CSM, Omega CRM. Socio Fundador y Director General, Boutike Digital. Anteriormente: Socio Promotor, Futurismo Canarias. Digital Business & Marketing Director, Avanza Externalización de Servicios S.A. Director, Agrupalia
Juan Carlos Alcaide Casado
Licenciatura en Sociología, Universidad Complutense de Madrid. Actualmente: CEO y fundador, The Silver Economy Company. Director Asociado, Auren. Cofundador & Estrategia, Taytantos The Silver Agency. Fundador y Director General, MdS - Marketing de Servicios. Fundador y socio accionista, Don´t Go
Paula Quirós Medina
Licenciatura en Derecho, Universidad de Oviedo. Actualmente: Managing Director & CMO, Cloud Coachers. Fundadora, NUR7URE. Anteriormente: CMO, Panda Security. Account Manager, Cofiman. International Account Manager, Fujitsu. Sales, Aucland
Fernando Andrés García
Master en Gestión y Administración de Empresas, IESE Business School. Programa de Desarrollo Directivo, IESE Business School. Ingeniería Superior en Informática. Actualmente: CEO, Cloud Coachers. Anteriormente: Adaptive Defense B.U. Global General Manager, Panda Security. Channels and Alliances Director, Salesforce. SaaS & Hosting Sales Lead, Microsoft Iberica, S.R.L. Project Manager, ICL Spain
Jorge Juan Aguilar García
Master en Marketing Digital, ESIC Business & Marketing School. Actualmente: CMO, Shapelets. Socio Consultor, Marshals. Anteriormente: CMO, Sum. Cofundador & CEO, Agencia Digital Co. Managing Director, Concert Music Entertainment. Director de Desarrollo de Negocio, Mix Radio. Jefe de Servicios y Venta Digital, Telefónica
Ana Fernández Jiménez
Master en Gestión del Conocimiento, Universidad Pontificia de Comillas, ICAI-ICADE. Master en Dirección de Recursos Humanos y Organización, ESIC Business & Marketing School. Master en Dirección Comercial y Marketing, ESIC Business & Marketing School. Actualmente: Coach personal y profesional, HAZZLO!. Anteriormente, Responsable del Departamento de Recursos Humanos Sur de Europa, SCA - Hygiene and Forest Products Company. Responsable del departamento de RRHH, Master Distribution LLC
Carlos González Alonso
Programa Alta Dirección Digital Business (PADDB), The Valley Digital Business School. MBA, Universidad Autónoma de Madrid. Licenciado en Ciencias Económicas, UAM. Actualmente: Founder & CEO, empathic warriors. Anteriormente: Director de Formación y desarrollo, Caja Madrid, BANKIA
Africa Hernández Rodríguez
Executive Marketing y Publicidad Digital por IE Business School. Master en Marketing Directo en ESIC Business & Marketing School. Licenciada en Geografía por la Universidad Complutense de Madrid. Diplomada en Magisterio por la Universidad Autónoma de Madrid. Actualmente: Coordinadora Académica Master GESCO en ESIC Business & Marketing School. Anteriormente: Directora de Captación de Clientes Marketing Estratégico en AEGON Seguros
Francisco López González
Máster en Dirección Comercial y Marketing, IMF Smart Education. Máster Universitario Oficial de Recursos Humanos, Universidad Camilo José Cela. Doble Licenciatura en Derecho y Administración y Dirección de Empresas, Universidad Autónoma de Madrid/ Utrecht University. Actualmente: Global Head of Talent Acquisition & External Employer Branding, Gympass. Anteriormente: Senior Manager (Marketing, Digital & eCommerce Divisions), Michael Page
Paloma Lucas Pesque
Master en Marketing Relacional, CRM & E-commerce. ESIC Business & Marketing School. Licenciada en Economía, Universidad Carlos III de Madrid. Actualmente: CEO, Strategyland. Anteriormente: Directora de marketing para Iberia, LATAM, Mediterráneo, Global Blue
Carlos Molina Artigot
Experto Certificado en Experiencia de Cliente, IZO. Licenciado en Ciencias Ambientales, Universidad de Alcalá. Actualmente: VP Sales & Digital, IZO. Anteriormente: VP Corporativo de Innovación y Consultoría, IZO
José Fermín Rosell Aguirre
Executive MBA, IE Business School, Licenciado en Ciencias Empresariales, ESIC Business & Marketing School. Anteriormente: Manager de Banca Digital, Banco Santander. Director de Marketing, Diners Club International
Karyn Elizabeth Suárez Mosqueda
MBA, MARCOM Marketing and Communications Specialization, Nova Southeastern University Wayne Huizenga School of Business. Grado en Comunicación empresarial/periodismo, Loyola University Chicago. Actualmente: Directora de Master IMBA en ESIC Business School. Anteriormente: Coach Ejecutivo de Oratoria y Comunicación
Mario Alejandro Weitz Schneir
Master en Applied Economics, American University, USA. Licenciado en Economía, Universidad de Buenos Aires. Consultor de la Comisión Europea y del Banco Mundial
Precios y campus donde se imparte
Máster en Customer Experience: Innovation & Design Thinking [MICEMD] en Madrid
Modalidad y duración
Modalidad: presencial
Duración: 12 meses
Convocatorias y precios
Convocatoria 10/2022: 19.500 €
Campus ESIC in Madrid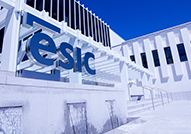 Máster en Customer Experience: Innovation & Design Thinking [MICEMD] - Formación en Área Marketing ESIC Business & Marketing School