Online Innovation & Technology Program [PSOIT]

The Online Innovation & Technology Program offers the student a complete strategic vision on the application of technological tools for innovation and entrepreneurship. An applied business mindset from Silicon Valley.
The main objective of this program is to train students from a totally practical perspective, providing them with a superior immersion experience in the culture and expertise of Silicon Valley. The program focuses on inspiring and connecting participants with the network and opportunities offered by the San Francisco Bay ecosystem. Risking, sharing, collaborating, embracing and celebrating failure are values that define a disruptive culture that is leading the transformation of the world. Through this program, the student immerses in the culture, the leadership style, the approach to innovation, the technological disruption, the network and everything that makes the Valley the leading center of innovation and entrepreneurship and the inspiration for business leaders and entrepreneurs all around the world.
1
Advance the development of the digital talent needed to make a business grow or create new a business.
2
Build leadership skills for the digital transformation.
3
Provide the keys for leveraging technological opportunities for business.
4
Promote the use of technology in different types of businesses.
5
Use intelligent data-based management to make decisions.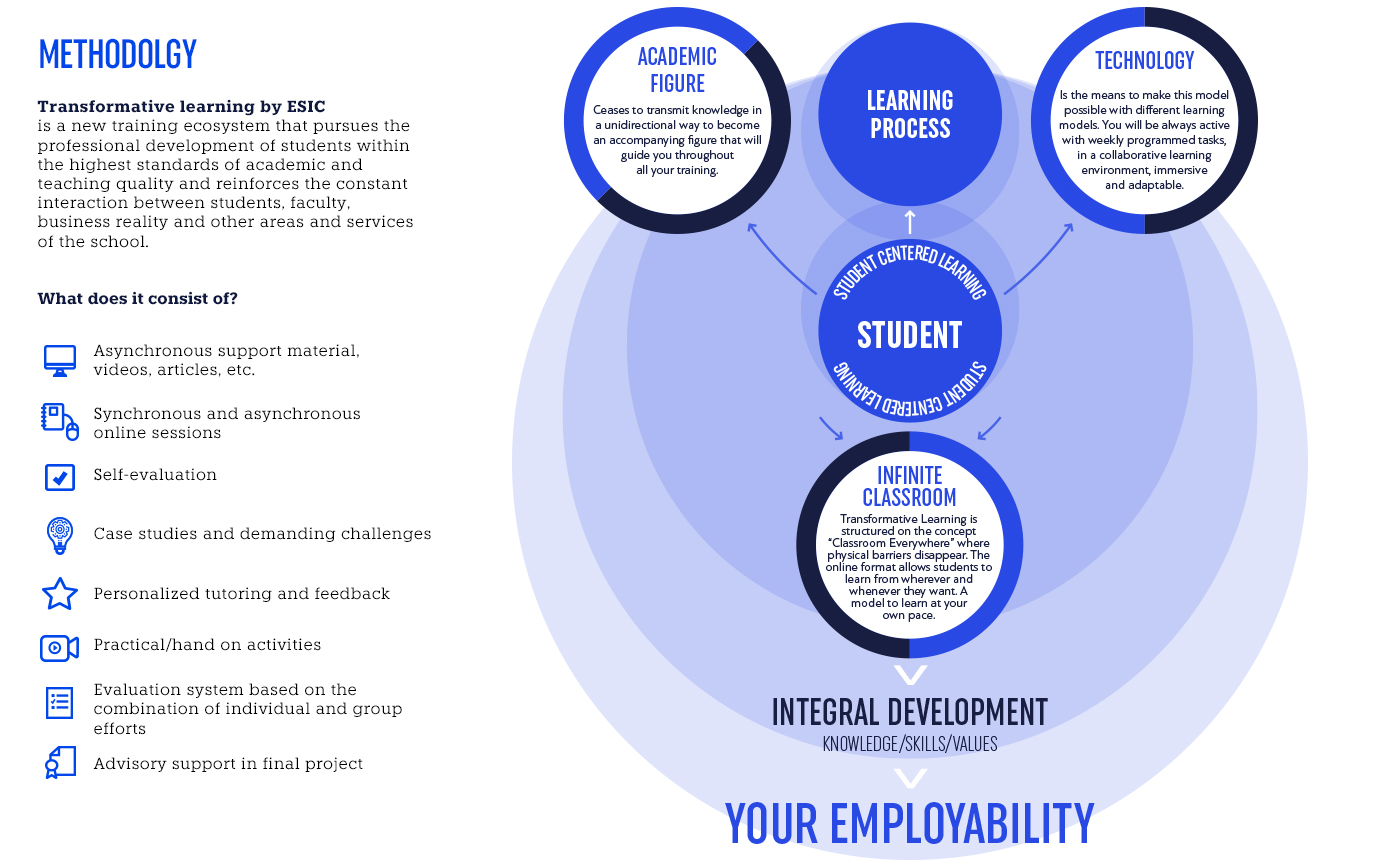 Academic Structure
The online format allows students to personalize and make learning more flexible through continuous training. In the online classroom model, technology is integrated as an element of the learning process that guarantees the continuity of training at all times.
The training modules develop the essential, generic and common competences, and deepen the specific, specialized competences specific to a particular function or position.
BLOQUES TEMÁTICOS
El curso especializado online se estructura en las siguientes sesiones:
Sesión 1. Data & Artificial Intelligence I
Sesión 2. Data & Artificial Intelligence II
Sesión 3. Computer Science
Sesión 4. Applied Tech
Sesión 5. Innovation I
Sesión 6. Innovation II
Sesión 7. Entrepreneurship I
Sesión 8. Entrepreneurship II
Sesión 9. Industry Verticals
Innovation Managers and Directors
Business Development
New Product and Service Development
Digital Transformation
Faculty
Carlos González Alonso
Fractional CFO, Specializing in startup and/or scale up companies, Alto, California, United States Specializing in startup and scale-up companies working side-by-side with CEOs to build business plans that stakeholders (i.e. current or potential investors, employees) can buy into and provide accurate details and a storyline that simplifies the decision-making process. I enjoy building financial projections to articulate a company story that is fully consistent with projected performance.
Executive Director, The California - Spain Chamber of Commerce Freelance.
Leading role in the 1st Silicon Valley Spain Venture Summit. The ultimate goal is to help the Spanish startups access Silicon Valley investors. This is an online event where 6 selected startups will pitch a panel of Silicon Valley VCs.
David Villaseca Morales
Digital, Marketing & Sales transformational leader. Based in Silicon Valley with Oracle, David helps organizations around the world to accelerate digital transformation and P&L growth, boosting customer experiences, brands and digital sales through data, technology and AI.
With more than 20 years building multidisciplinary teams and profitable business across USA, EMEA, LATAM & APAC, David is empowering the growth of banks and insurance firms, with a tech approach at Oracle, and before with a consulting approach at Accenture Digital. Previously, he led digital transformation global units of 100+ experts at BBVA bank for 10 years, and Marketing teams for iconic brands: Coca-Cola, LVMH, PSA Peugeot Citroën. Board Member of California-Spain Chamber of Commerce. Recognized as Forbes/Choiseul Top "Leaders under 40", and with The Coca-Cola Company "Marketing Excellence Award". David is startup advisor at Stanford's Starx, and AWS, Facebook, Google and Oracle certified professional.
Ed Fernández
Non-executive Director at AWN holdings, Private Equity and Asset Management (USA, UK and Australia). Board Director at BigML Inc (USA) Faculty member at Northeastern University in Silicon Valley (USA). Advisor and member of the Investment Committee at Alicorn Fund, a VC fund investing in pre-IPO technology companies (selected investments: Anodot, Glassbox, Lemonade).
Ignacio Riesgo
With over 25 years of experience in the IT industry, being the last 15 years Director at Microsoft, Nokia, and now Head of Kubernetes Product Marketing, WW, at AWS. Worked and lived in Madrid, London, San
Francisco, Seattle and Los Angeles, focus on Developer partnership activities, Mobile Digital services and Cloud. Previously, 11 years at Apple, going through the restructuring of the company to the Apple rebirth during that period. Running Sales, Marketing and Developers for the Professional Markets, with focus on
Partnerships and Platform Adoption in the Computer industry. He has held General Management positions in ADECCO, both nationally and internationally. Currently Marketing Director of the COFARES Group
Luis Ríos Pita
Digital Transformation solutions consulting: Artificial intelligence, blockchain, cloud computing, IoT, Telco Professional dedicated to IT and Telco sales, marketing and business development. Focused on Digital Transformation technologies. Oriented towards achieving objectives. Long experience in team management, in multinational companies such as Telefonica, Microsoft, Nokia and AT&T.
Manuel Bonachela
Chief Digital Officer and Innovation Director with experience in leading brands (media/newspapers) in the main areas related to Digital Transformation, Content, Digital Marketing, Growth, Monetisation, Social Media, Technology and Data. Manuel has led multidisciplinary teams, from different countries, which have stood out for their ability to analyse and optimise market research and data oriented to designing, optimising and launching successful and customer-oriented products. Throughout his professional career he has taken part in some of the most important digital publishing projects on the Spanish media landscape, from conceptualisation to implementation, execution and development, not only nationally but also internationally. He currently lives between Madrid and the San Francisco Bay Area.
Susana González
Visiting Researcher at Stanford University in Palo Alto, PhD in Business Economics, and lecturer in User Experience and Consumer Insights. She founded the Silicon Valley start-up, Caltops, to help companies innovate and transform, placing people at the centre of change and using technology to accelerate sustainable business growth. Over her career, she has worked in companies such as Flex, L'Oréal, Pernod Ricard and HSBC. She currently collaborates as a Research Advisor for the Inspiring Girls Foundation, promoting technological and digital skills among young women.