ESIC Eventos
Sistemas de recomendación: del filtrado colaborativo a la búsqueda semántica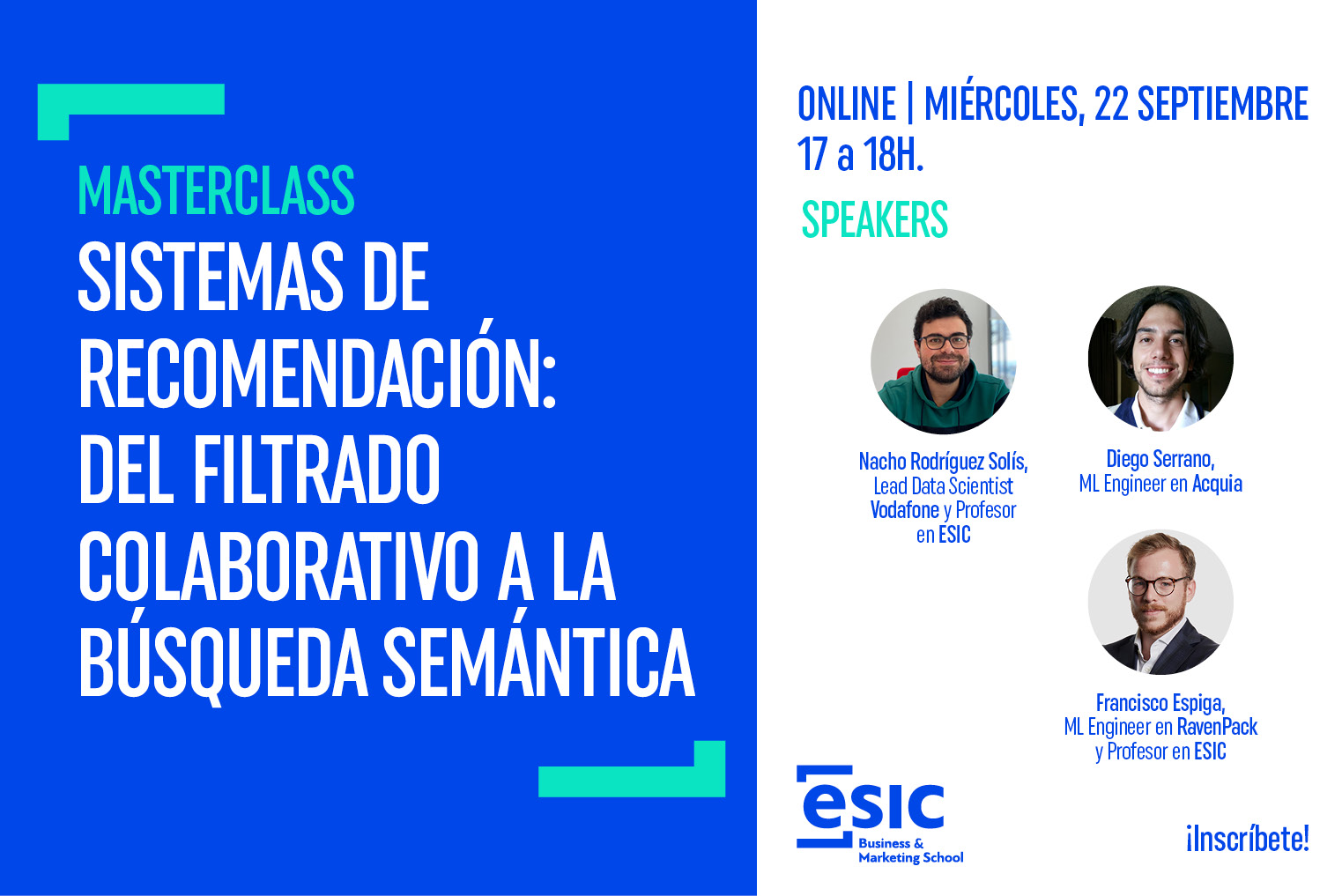 When?
22 de Sep del 2021 | from to
Where
Zoom
En la sesión "Sistemas de recomendación: del filtrado colaborativo a la búsqueda semántica" hablaremos de la evolución de los sistemas de recomendación y de cómo el uso de las interacciones pasadas (producto-usuario) combinado con información adicional de reseñas y valoraciones, está permitiendo pasar de sugerir el next product to buy a recomendar experiencias con valor diferencial para el usuario.
Participantes
Francisco Espiga - ML Engineer en RavenPack y profesor en ESIC
Francisco Espiga es profesor de Marketing Intelligence y Computer Vision en ESIC y cuenta con una amplia experiencia en proyectos de analítica avanzada en energía, finanzas y oil & gas.
Diego Serrano - ML Engineer en Acquia
Diego Serrano es Senior ML Engineer en Acquia, una de las plataformas líderes en customer data (CDPs) donde gracias al enfoque insight-driven y customer-focused ayudan a más de 150 marcas como Lululemon, Centara o Godiva 
Nacho Rodríguez Solís – Lead Data Scientist Vodafone y Profesor de IA y Sistemas de Recomendación en ESIC
Lead Data Scientist de Vodafone Business. Lidera un equipo de Data Scientists que trabajan en proyectos de ML e IA creando productos basados en datos para su monetización externa y en mejora de la operativa interna a partir de ese tipo de análisis. Más de 11 años de experiencia como Data Scientist, primero en el mundo de la consultoría nacional (Neometrics, para Mapfre, Redsys...), después en el extranjero (Accenture, para National Bank of Canada, Schneider Electric...), después en el mundo Start-up (dive.tv) y los últimos 4 años en Vodafone Business.
Carlos López Ariztegui – Director Programas Marketing y Tecnología ESIC y Director Master en Inteligencia Artificial
Recuerda que una vez te hayas inscrito al evento, el enlace de conexión para poder seguir la sesión llegará a tu correo electrónico una hora antes del evento.