ESIC Eventos
Turnitin On-Campus en Valencia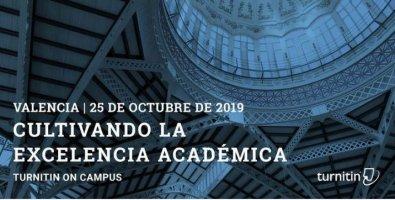 When?
25 de Oct del 2019 | from to
Where
Salón de Actos
Dirección
Av. de Blasco Ibáñez, 55, 46021 València
¿QUÉ ES TURNITIN ON-CAMPUS?
Es el primer evento que tiene lugar en diferentes campus universitarios europeos, donde ser reúnen a investigadores, académicos y expertos en tecnología educativa para discutir sobre temas relacionados con los fundamentos de la excelencia académica.
¿QUÉ CAMPO ESTA CULTIVANDO LA EXCELENCIA ACADEMICA?
ESIC Business and Marketing School, ha sido elegido campus universitario por cultivar la excelencia académica. Por esta razón, te invitamos a que vengas al evento en Valencia el próximo 25 de octubre. Tendrás la oportunidad de coincidir con profesionales del mundo académico para debatir acerca del proceso de retroalimentación y evaluación de los trabajos, de la integridad académica y del creciente fenómeno del "contrat cheating" o fraude en la autoría académica.
Anímate a participar en el evento para ampliar tu red de contactos y hablar con tus compañeros de profesión de tu experiencia de cara a la implementación de la integridad académica en su centro.