ESIC Eventos
Conference - Digital Future Society: shaping a better future together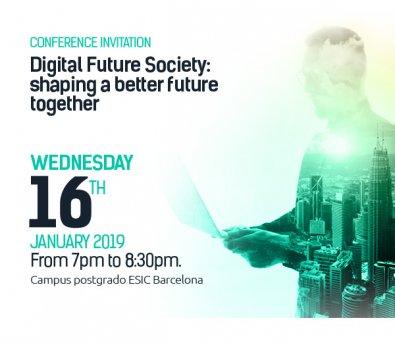 When?
16 de Jan del 2019 | from to
Where
Campus Postgrado ESIC Barcelona
Dirección
C/Santaló, 36, 08021, Barcelona
Digital Future Society (DFS) is a global programme of Mobile World Capital Barcelona that seeks to build and inclusive, equitable and sustainable future in the digital era.

To this end, DFS engages experts, policymakers, civic organisations and entrepreneurs to explore, experiment and exchange knowledge in four key areas: public innovation, digital trust and security, Inclusion and citizen empowerment and equitable growth.

Throughout the year, DFS transforms global reflection into local action and creates spaces for its communities and citizens to share ideas and solutions.
CONFERENCE BY:
Esteban Redolfi
Digital Future Society. Redolfi's career has been in the field of Strategic Consulting, as a specialist in corporate communications, branding, building brand awareness, and inbound marketing strategies.

Since 2015, Redolfi works at Mobile World Capital Barcelona contributing to the development of 4YFN as Executive Director and now as Director of the Digital Future Society programme.