ESIC Eventos
International Practice Day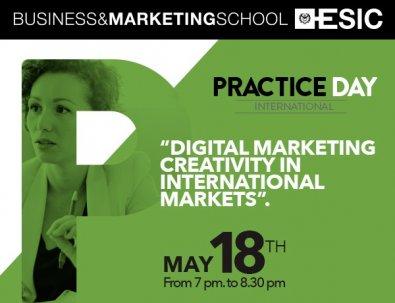 When?
17 de May del 2017 | a la(s)
Where
Aula Magna Postgrado
Dirección
Avda. Valdenigrales, s/n - 28223 Pozuelo de Alarcón
Join us in our next Practice Day and get to know more about "Digital Marketing Creativity in International Markets".
AGENDA
LECTURE
DIGITAL MARKETING CREATIVITY IN INTERNATIONAL MARKETS
In this session, we will discover how to apply copywriting and art creativity to generate outstanding results in today´s marketing world. All this, an integrated offline-online approach that guarantees a correct implementation of inbound marketing strategie.

BUSINESS CASE
CREATIVITY IN B2C MARKETS: GENESIS, PANAMA JACK, GLAMSMILE...
Through this workshop, we will identify real applications of adequate copywriting strategies to boost up engagement levels and thus drive sales in different fields.
TECHNICAL NOTE
How to Build an Inbound Marketing Strategy in 24 Hours
SIGN UP to attend or watch it live!