ESIC Eventos
La Era de la Disruption Digital: el futuro del empleo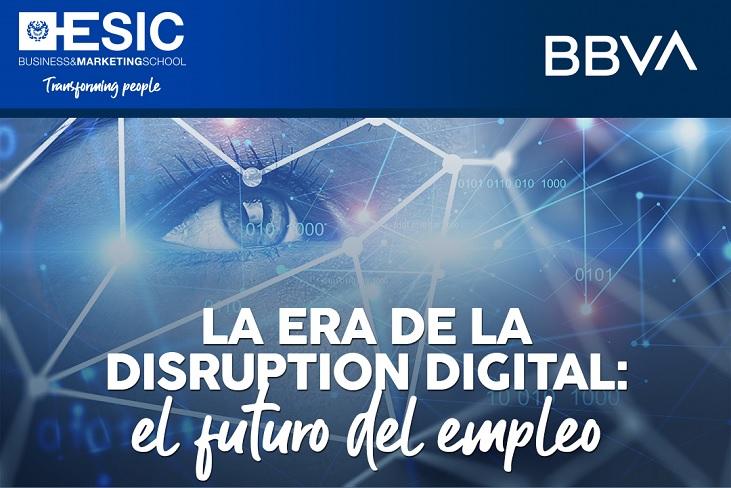 When?
17 de Jan del 2020 | from to
Where
Salón de Actos
Dirección
Av. de Blasco Ibáñez, 55, 46021 Valencia
Rafael Doménech nos hablara de:
-  El progreso económico y el bienestar social dependen del progreso técnico a largo plazo. La transformación tecnológica y digital representa una oportunidad en la historia de la humanidad, pero también desafíos enormes.

- La revolución digital está teniendo efectos perturbadores en el empleo, las ocupaciones, las cualificaciones necesarias, la prima salarial, la desigualdad y la polarización, aunque hasta ahora no hay motivos para afirmar que afecta al desempleo a nivel agregado.

- Para las sociedades (sector público, empresas y trabajadores), es crucial anticipar y gestionar activamente la revolución digital, utilizando una amplia gama de políticas que:
garanticen la igualdad de oportunidades.
mejoren los efectos positivos a largo plazo de un progreso técnico y digital  inclusivo para que esta era de nuevas oportunidades llegue a todos, y reduzcan los costes de transición a corto y medio plazo.
Otro
Ha sido Director General en la Oficina Económica del Presidente del Gobierno, director del Instituto de Economía Internacional, miembro de la Junta Consultiva de la Universidad de Valencia e investigador colaborador de la OCDE, Comisión Europea, Ministerio de Economía y Hacienda y de la Fundación Rafael del Pino. Ponente del Plan Estadístico Nacional 2013-2016. Ha sido también miembro del Comité de Expertos sobre el Factor de Sostenibilidad del Sistema Público de Pensiones y es Miembro de Honor de la Asociación Española de Economía. 

             Ha publicado numerosos artículos en revistas científicas de reconocido prestigio nacional e internacional (entre otras, Journal of the European Economic Association, American Economic Review, The Economic Journal o European Economic Review), sobre crecimiento, capital humano, ciclos económicos y políticas monetarias y fiscales. Es autor de los libros The Spanish Economy: A General Equilibrium Perspective, editado por Palgrave MacMillan, y En Busca de la Prosperidad, editado por Deusto.